About Me
Elegance is simplicity on the far side of complexity - Matthew May
My gift is in seeing the next big technology-driven waves and designing and developing elegant products and services to dramatically leverage those opportunities.
Empowered Digital Advertising: OneDegree
Can you see the real me? - The Who
2013: A deceptively simple question I was asked - "Why doesn't the internet know me?" - led me to reconceptualize what advertising and customer communication means in the Digital Age. I created OneDegree to use trusted recommendations to connect people with content, products, and services you're guaranteed to love.
Media & Audience: Honk
If you know something important, the way to get power is by sharing it. - Joseph Badaracco
In 2008, media properties such as WSJ.com were looking to aggregate in-market automotive audiences more directly. I cofounded Honk.com to winnow out purchase intent in a way static content couldn't. We based our recommendation engine on users' specific demographic and behavioral cues, driving purchase decisions via proprietary data and reviews from millions of car owners nationwide.
Big Data / Analytics: Mota
Power is not revealed by striking hard or often, but by striking true - Balzac
Mota allowed used car sellers to easily sell their vehicles at the best price. In 2005 they needed an accurate way to predict the sales price for vehicles online, so I created their Market Intelligence Tool - a Big Data system to collect and analyze over 600,000+ online transactions, able to predict online car sales prices to within 5%.
Crowdsourcing: Chooser
None of us is as smart as all of us - Ken Blanchard
Photo and media sharing websites have degenerated into slideshow drudgery as cheap bandwidth and storage allows everyone to upload content indiscriminately. In 2008 I created Chooser by applying crowdsourcing techniques to automatically present the cream of the crop in a fun, engaging style that keeps media collections fresh and relevant.
Awards / Education
2007 DEMO Conference DEMOgod Award Winner - Panjea
2007 MIT Technology Review Young Innovators Under 35 Nominee
1995 Combined MIT Media Lab MS/BS Computer Science, 4 years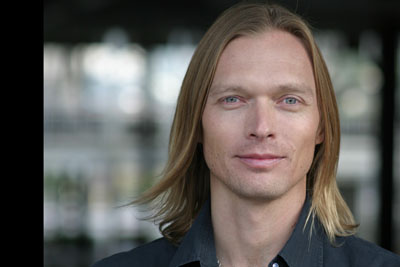 Other Sites / Connect
socialpl.us+ - my personal design lab
- my business network
- I live in Venice, CA
Recommendation / Discovery: Anytune
The real voyage of discovery consists not in seeking new landscapes, but in seeing with new eyes - Marcel Proust
In 1997 I founded Anytune - the first online music distribution site offering custom CD compilations to music fans worldwide. How could we bring the personalized recommendations of an expert record store clerk to help audiences discover great new artists? I patterned the Genre Browser - the first online Music DNA system - after the way great DJs introduce new music while still allowing the user to guide and focus their discovery experience.
Hyperaggregation: Panjea
Everyone will be famous for 15 minutes - Andy Warhol
With the explosion of digital media online, we need better ways to separate the wheat from the chaff. In 2006 I refocused the Panjea team to create the Panjea Player, making it easy for anyone to find videos from video sites across the web, add them to their personal video channel, and share that channel via their blog, website, or social networks.
Webcasting: BYOBroadcast
The greater the diversity, the greater the perfection - Thomas Berry
BYOBroadcast was founded in 1999 to give everyone the ability to broadcast audio to listeners worldwide over the internet. I worked with the founders to define the concept and product definition as well as built and launched their initial beta site.
Build-To-Market: Jumpstart
The only thing that matters is getting to product/market fit - Marc Andreessen
The key to new product success is to constantly adjust your development efforts based on your daily learnings about real market needs. I created Jumpstart in 2008 as a simple and effective way to "give the steering wheel" to the business team in a way that is powerful, familiar, and is based on my 15+ years' experience leading product teams to deliver better products faster.